and Improve Your Well-Being With The Perfect Air
Humidifier.


Create a Tranquil and Relaxing Ambience with Our Wood-Like Textured Air Humidifier

Experience the Innovative Design that Combines Style and Wellness

Enhance your surroundings with the perfect balance of style and functionality, thanks to our beautifully crafted wood-like textured plastic humidifier

Immerse Yourself in Pure Relaxation

Experience the soothing effects of improved air quality as our humidifier effortlessly adds moisture to the environment, helping to relieve stress and promote overall well-being. With its sleek and modern design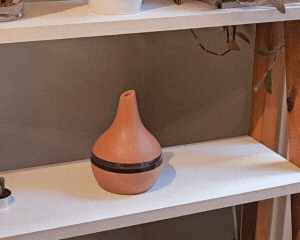 Latest generation technology

Ultrasound system for a uniform mist
Unlike a typical misting humidifier, this unit uses first class technology to naturally humidify all the air in the room without making a wet mess on the surfaces around it because overturn it won't produce any leakage.
When it starts working, you can feel the difference instantly.
Don't miss this incredible opportunity
Instant Quality Guaranteed
take advantage of this limited time offer
"Works great in my office! No more nose bleeds, no more static electricity."
"My home was very dry at 10% humidity. Humidity level is coming up slowly over the past week and now up to 20%. Easy to fill and extremely quiet. Very pleased with this purchase".
"It works so good. All the ultra sound humidifiers need to be cleaned everyday, but this one is ok to use longer than that without cleaning. Air circulation in my room is a plus!"
"I bought this for the dry winter months. It's working as expected and is pretty quiet. Good value for the price."
"The humidifier works fine, and I appreciate the quick delivery. I'd buy from Youdeserveit again."
"Easy to set up, easy to use. It's a simple humidifier that gets the job done."
"This humidifier runs pretty quietly, and I've had no problems. It's a solid purchase."
"We've had this humidifier for a month now. It's easy to fill, and I can tell it makes a difference in our home."
"This humidifier fits well in my living room, and it's easy to clean. I'm pretty happy with the purchase."
Frequently Asked Questions
Every unit comes with:
-Humidifier (1)   
-Power cable (1)   
-User guide
Water capacity: 300ml Size: 110*110*145mm Color: "Light Wood" grain Power: 2W Voltage: 5V Current: 30ml/h
It is compatible with the use of scented oils. When using essential oils please add 2 drops of in 250 ml of water. TAKE NOTE: please put the oil according to the proportion to avoid any damage to the unit.
Viruses and other infectious particles can survive longer and stay suspended longer in dry air. But, When humidity levels are higher, aerosol droplets expand faster, fall to the floor, and have less opportunity to be inhaled. Assuming you clean it regularly and keep humidity levels in the appropriate range, sleeping with a humidifier can provide you with multiple health benefits.
it is healthy to sleep with a humidifier in your room: Sleeping with a humidifier can have several health benefits, even if you don't have asthma or other respiratory conditions.
Youdeserveit - All Rights Reserved © 2023